M:1:2:3
excerpts of Milieu
​
2017
Media Sound Installation
with Stepper Pedestal;
steelcable, stereosound in Loop
​
Immersive, humorous and poetic musical enclosure, that concern with the osmotic boundaries of inside and outside, private and public spheres. The artistic approach takes three tonal clouds as excerpts of Milieu that in a new work, finds condensation in the arrangement of the parts following "Sound-Form-Aesthetics" as a essayistic texture, that incorporates the participation of the public.
​
The network structures of the clouds follow the concept and diagrams of distributed networks suggested by engineer Paul Baran in the 1960s. The sound collage (found footage from Social Networks- Deconstructed texts transformed as sound) expands into new fictional realities.
Site-specific Set:
(2017) Transitions of Energy, K. H. Renlund Museum, Kokkola (FI)
​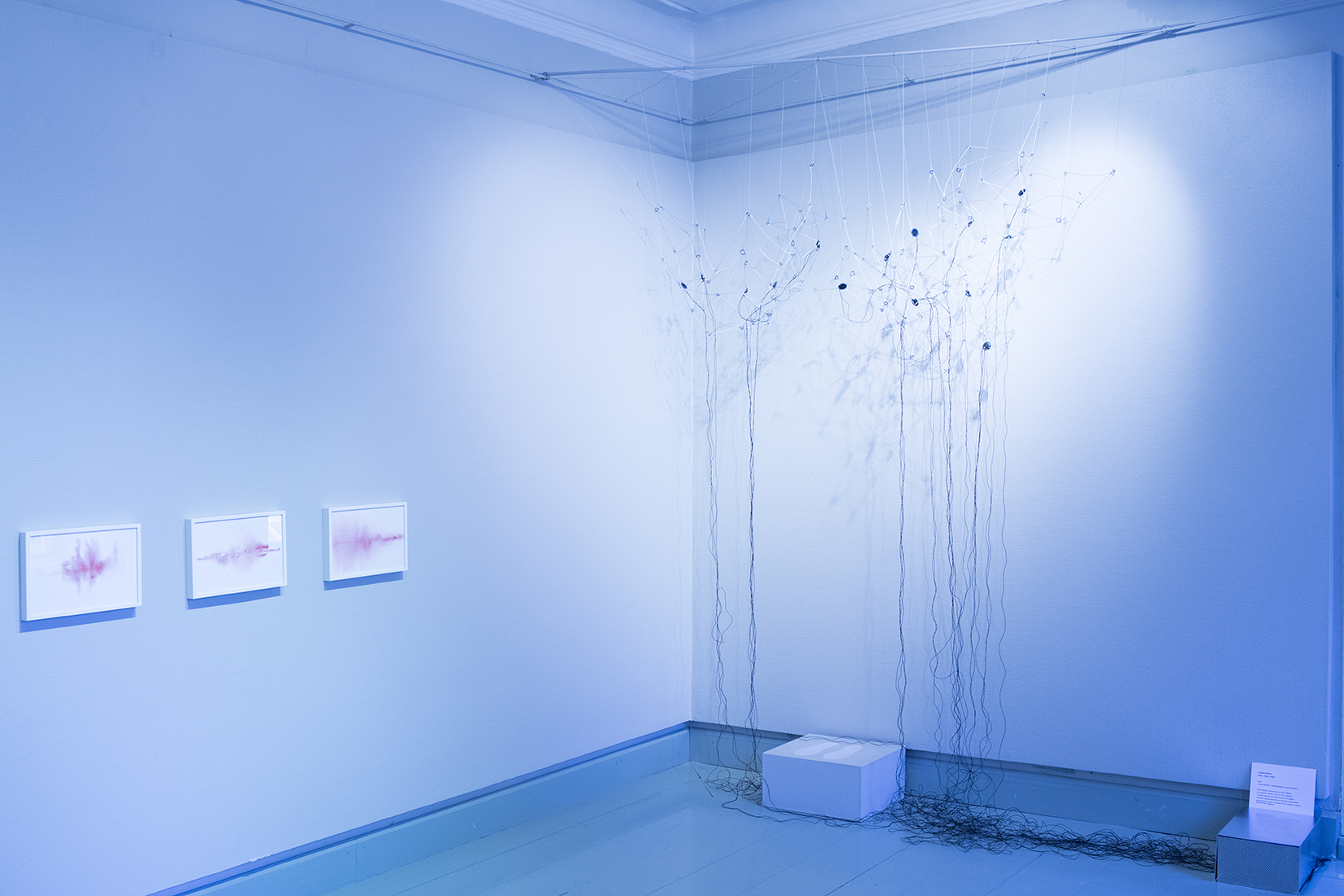 Site-specific settings:
(2019) La Marca Original (M:1 excerpt of Milieu) , CCK Buenos Aires (AR)
(2019) Un recorrido en dos tramos, collection Fundación Andreani, Buenos Aires(AR)
(2017) Transitions of Energy, K. H. Renlund Museum, Kokkola (FI)
(2017) Transitions of Energy, Kymenlaakso museum, Kotka (FI)
(2016) Transitions of Energy, Kajaani Art Museum (FI)
(2015) Premio Fundacion Andreani a las Artes Visuales, Centro Cultural Borges (AR)
(2015) Transitions of Energy, Kunsthalle Lab Bratislava (SK)
(2015) Überschreitungen, Symposion Lindabrunn (AT)
(2014) paraflows .9 Intimacy , Künstlerhaus Vienna (AT)
Milieu at Kajaani Art Museum, Kokkola, Finland 2016